SO WHAT SHOULD CROSSFIT AND ITS CEO DO NOW?
There has been a big response from the diabetes community to the blatantly wrong and dangerous twitter campaign started June 30 by CrossFit, an organization that promotes itself as a health and fitness resource. The Type 1 community has been particularly vocal in denouncing this misinformation and its damaging effect on people living with any type of diabetes. CrossFit's attempts to defend the allegation that consumption of sugary drinks like Coca-Cola causes diabetes have displayed an even deeper ignorance of this medical condition. So what should Crossfit and its beleaguered CEO do now? Can they redeem themselves?
I just got back from my daily one-hour morning hike with my Siberian Husky. I'm wearing my insulin pump and my CGM, and I'm doing all the calculations and making all the adjustments that go along with living a healthy, active life with Type 1 diabetes. But during my hike, I was reflecting on this whole situation and wondering how can we deal with this in a constructive and positive way? Forty-two years of living with diabetes has taught me that in order for me to be healthy, both physically and mentally, I need to focus on dealing with challenges with relentless optimism, constructively and positively.
First, a little education: It's not because of anything you do that you get diabetes. It's not from eating sugar or drinking sweet drinks. It's not from lack of exercise. It's not from smoking or drinking alcohol. It's not a sexually-transmitted disease, and it's not from overexposure to the sun.   While it may be wise for you – and anyone else — to pay attention to any or all of these things to be healthier, none of them will make you a diabetic, or keep you from getting diabetes if that is your fate.
People like simple answers. There is nothing simple about diabetes. It is a complex condition with multiple factors, whether you have Type 1 (autoimmune), Type 2 (metabolic), LADA (latent autoimmune) or gestational (pregnancy) diabetes.
Once you have diabetes (through no fault of your own) there is no cure. There are things you can do to reduce the risk of complications (heart, eye, kidney, and nerve damage). The most important is keeping your blood sugar levels as close as possible to what they would have been if you did not have diabetes. For some of us, that means injecting or infusing insulin every day, over and over. Insulin is not an easy drug to take. Too much can kill you. To avoid dying, you will need to have a quick source of glucose (like Coke) available immediately. Too little puts you at risk of complications. The amount of insulin you need can change day to day, hour to hour, minute to minute, based on a whole host of interdependent variables, many of which are not under your control (stress, infection, food, activity, time of day, and many more).
I do not expect people who do not live with diabetes to grasp the complexities of my medical condition. Grossly misleading and damaging corporate speech is another matter entirely. When someone in a position of corporate authority, who holds themselves and their company out as health and fitness experts makes such a statement, the damage done to the tens of millions of people living with diabetes (in North America alone) is profound, significant and widespread.
People with diabetes will be shamed, blamed and bullied, and will be discouraged from the hard work that it takes to manage this condition every day, day after day, with no cure and no break. Public misunderstanding of the condition will be increased and exacerbated, and there will be more shaming, blaming, bullying and hurting of people living with diabetes, many of whom are children. There is already far too much of that, and many, many of us hide our condition to try to avoid it, resulting in danger to our lives and to our mental health.
The fact that it was intended as a parody – a joke – makes it even more offensive and damaging. Diabetes is no joke. Living with it is not funny (although a sense of humour is helpful). Being blamed for having brought it on yourself is alienating, hurtful, debilitating, degrading, dangerous and wildly inaccurate.
Sugar does not cause it. There is no way to avoid getting it. There is no cure. If you have diabetes, IT IS NOT YOUR FAULT! There are millions of pages of medical research available to support that statement. There is no basis in fact for the statement made by CrossFit and it's CEO. To learn more about diabetes in an easy-to-understand format, go to www.diabetes.org or www.jdrf.org. These resources are free and available to anyone with an internet connection, and should have been the first stop on the fact-checking for the CrossFit Twitter campaign.
So what should CrossFit do now? How can they mitigate some of the damage they have done, both to their own corporate reputation and credibility and to the group of people they have unjustly maligned?
I have a few suggestions: 1) Admit you were wrong. 2) Apologize. 3) Partner with, give money to and publicly support the many diabetes advocacy groups working to help people living with any type of diabetes live healthy normal lives. Groups like Connected-In-Motion and T1 Diabetes Think Tank Network work hard, with very little financial support, to help people with diabetes transcend the limitations of their medical conditions and achieve their goals.
In short, CrossFit needs to put its money where its foot currently is (in its mouth) and sponsor and support us in our efforts to live full, productive and healthy lives in spite of the medical condition we did nothing to deserve.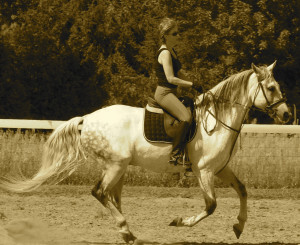 So that is my challenge to you, CrossFit. Are you up to it?
I have to go exercise my horse now.
( © Lynda Covello, 2015. All rights reserved. )